Collaborations
Studies On the Progression and Detection of Cancer in Transgenic Mouse Models
Alexander Nikitin, Associate Professor of Biomedical Sciences, Cornell University.
Funding: R01 CA112354 (09/01/05-06/30/10).
Monitoring carcinogenesis in living animals remains a major challenge in cancer research. This project uses the Cre-loxP approach for modeling carcinogenesis associated with deficiency of p53 and/or Rb for modeling ovarian (Fig. 1), breast, prostate and soft tissue neoplasms (Flesken-Nikitin et al, 2003).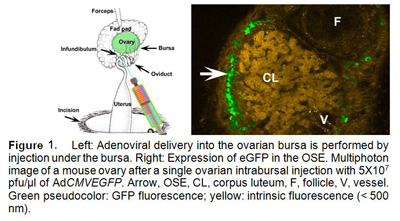 Using these preclinical mouse models of sporadic ovarian, prostate and soft tissue neoplasms, our objective is to determine whether parameters obtained using multiphoton excitation of transformed tissue can be significantly correlated with such stages of neoplastic progression as dysplasia, invasion, angiogenesis and metastasis. Specifically, we are investigating the diagnostic potential of (1) tissue morphometric information obtained from intrinsic fluorescence imaging, (2) emission and excitation spectra, (3) steady-state multiphoton emission anisotropy, (4) fluorescence decay times, and (5) collagen morphology and turnover as assessed by collagen second harmonic generation. We have demonstrated that neoplasms sporadically developing in the immunocompetent mice can be successfully imaged at the subcellular level by using intrinsic emission (Zipfel, Williams et al. 2003). According to literature reports, in humans early ovarian lesions can be identified according to their morphometric parameters, such as enlarged cellular and nuclear size (Deligdisch et al. 1999). Results on fresh excised tissue at 8 and 24 days after conditional inactivation of p53 and Rb indicate that cellular enlargement is a very early event during OSE carcinogenesis (Fig. 2). We have since duplicated these experiments in vivo.
References
Choi, J., A. A. Burns, R. M. Williams, Z. Zhou, A. Flesken-Nikitin, W. R. Zipfel, U. Wiesner, and A. Y. Nikitin. 2007. Core-shell silica nanoparticles as fluorescent labels for nanomedicine. J Biomed Opt Deligdisch, L., J. Gil, et al. (1999). "Ovarian dysplasia in prophylactic oophorectomy specimens: cytogenetic and morphometric correlations." Cancer 86(8): 1544-50

Flesken-Nikitin, A., K. C. Choi, et al. (2003). "Induction of carcinogenesis by concurrent inactivation of p53 and Rb1 in the mouse ovarian surface epithelium." Cancer Res 63(13): 3459-63.
Zipfel, W. R., R. M. Williams, R. H. Christie, A. Y. Nikitin, B. T. Hyman and W. W. Webb, "Live Tissue Intrinsic Emission Microscopy Using Multiphoton Excited Intrinsic Fluorescence and Second Harmonic Generation," PNAS 100(12), 7075-7080, 2003